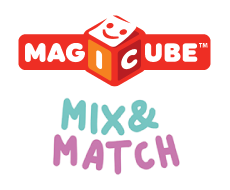 Mix & Match Magicube Geomag
Each character or animal is represented vertically on the side of the each magnetic cube. And thanks to magnetism, the cubes stick together on all 6 sides. Once you've put together your figure "correctly", try out mixing and matching! Endless hilarious combinations!
Do you need instructions?
Fill in the form and download
View the complete catalogue
The original magnetic construction toy since 1998